Billie Eilish is probably the most talked about teen on the planet. The 17-year-old is best known for writing electro/indie pop music with her brother Finneas. But her music isn't the only thing that people are talking about. Her daring, one of a kind, wardrobe consisting of baggy silhouettes, extremely wide leg trousers and high-tops get everyone hyped on Instagram.
She may currently be topping the Billboard 100 chart for her latest album, When We All Fall Asleep, Where Do We Go?, and just headlined Coachella. But, these aren't the only things getting people excited. Her yeti-style trousers and oversized Louis Vuitton gilet were the talk of Coachella weekend 1. For some Billie Eilish is like a religion. With her mesmerising music and daring fashion, scrolling through her Instagram is a way to escape from reality whilst simultaneously getting your latest Billie fix. Although for some Billies outfits can make you think what the f, for others her outfits are incredibly out there and forward thinking. Which is probably why Billie Eilish has hundreds of Instagram fan accounts. By posting daily Billie Eilish fashion to her 86.2k followers, Alina from @eilishoutfits on Instagram has created a hub for all of Billie's exact outfits. We asked Alina a few questions about why she loves Billie Eilish so much.
TELL US A BIT ABOUT YOURSELF AND HOW YOU GOT INTO RESEARCHING FASHION.
My name is Alina, I'm 15 years old from a little town in Ukraine. I'm just a girl who likes music and fashion a lot, and I have long been fond of clothing and fashion brands. I follow many style-accounts and, then at one point, I decided to create my own account.
HOW MANY HOURS A WEEK DO YOU SPEND FINDING BILLIE'S FASHION?
About 5 hours every day, I always stay on Instagram and periodically follow the news about Billie and her style.
WHAT'S BILLIE EILISH'S BEST SONG AND WHY?
It's sooo hard to pick one, but I think 'i love you'. The main thing I like is the meaning behind the lyrics. In this song, Billie sings very emotionally about her relationships, and the lyrics are better than in her other songs.
WHAT BRANDS ARE YOUR FAVOURITE THAT BILLIE WEARS?
My top 3: Skoot Apparel, Siberia Hills, and Heart of Bone.
IF YOU COULD HAVE ONE OF BILLIE'S OUTFITS FOR FREE, WHICH ONE WOULD YOU TAKE?
With the help of Alina, we have curated a list of her top Billie Eilish outfits so if you've ever wondered where to shop so you can dress exactly like Billie Eilish you have come to the right place.
BILLIE EILISH SPACE JAM
How To Dress Like Billie Eilish This Halloween
The year 2019 has blessed us with an abundance of memes, sensational scammers, and viral celeb moments—all ripe for the picking this #SpookySzn. ELLE.com is here to help you win Hallowmeme with our complete guide to costumes for people who love the Internet.
---
Who is Billie Eilish?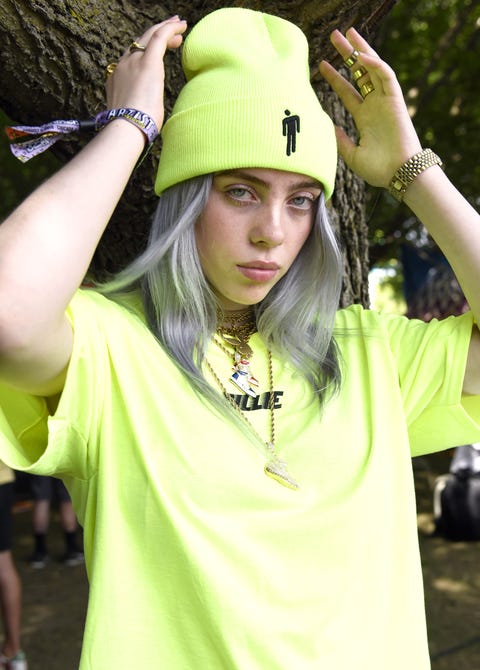 TIM MOSENFELDERGETTY IMAGES
Aw, what a cute question. Billie Eilish, the 17-year-old pop star whose debut album has gone number one multiple times in the past year, blew up the music world after her song "Ocean Eyes" went viral on SoundCloud in 2016. Since then, she released her album When We All Fall Asleep, Where Do We Go?, dominated the Saturday Night Live stage, and became a veritable fashion icon, donning oversized T-shirts and shorts alongside sneakers and layers of jewelry.
As one of my ELLE.com colleagues once remarked, every teenager these days either dresses like YouTuber Emma Chamberlain or Bille Eilish. The androgynous outfits paired with feminine accessories have become a staple for the singer. Hell, I want to dress like Eilish this Halloween. Here, one way to approach the look.
You should wear this costume if…
You love wearing comfy clothes, listening to emo music, and have been itching to dye your roots neon:
How to get it:
To achieve her signature look, we'll be using the below Instagram photo as inspiration. In said photo, she's wearing her classic outfit of a bright, baggy t-shirt and coordinating shorts.
Also, notably, she's wearing her own merch in this photo, meaning you can get the exact look. Also consider throwing on a few other signature Billie staples, including chunky sneakers, chain necklaces, extra-long nails, and funky sunglasses.
Source by elle
You also may like: